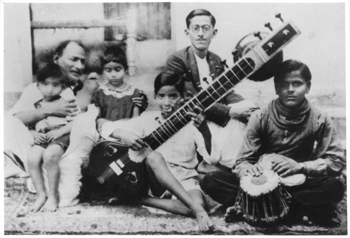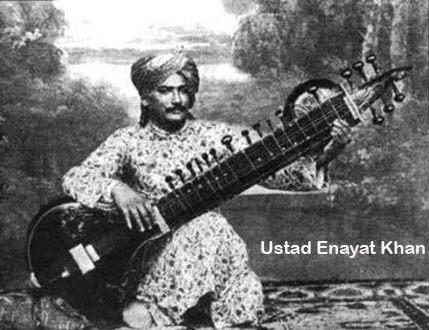 The Imdadkhani-Etawah Gharana, also fondly known as Vilayatkhani Gharana, after the name of Ustad Vilayat Khan, which is one of the oldest and most illustrious gharanas of Indian Classical Music which has produced the biggest names of Instrumental Music through each generation. This gharana traces its origin back through an unbroken line of celebrated and respected musicians to the golden era of Emperor Akbar the Great. Obviously this is the most influential and most innovative schools styles of Indian Music.
Sarojan Singh Ji of this gharana was an invited singer of Mughal darbar in Delhi. His son Turab Khan (previously known as Baddu Singh) and grand-son Sahabdad Khan (previously known as Saheb Singh)were also musicians of great caliber. Sahabdad Khan was brother in law of great vocalist Ustad Haddu Khan of Gowaliyar Gharana and also learnt vocal music from him. He applied his music on vocal music, jaltarang and sarangi. Afterwards he started to play Sitar and he was the inventor of the instrument Surbahar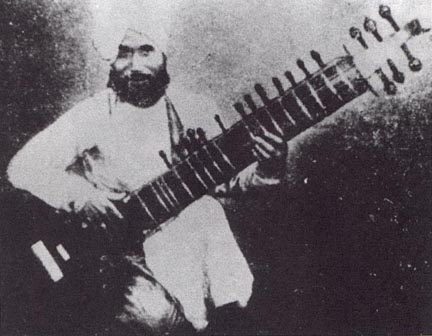 Ustad Imdad Khan(1848-1920): Sahabdad Khan's son Ustad Imdad Khan was a legendary sitar and surbahar player and this gharana is named after him. He had a tremendous contribution in making the base of modern style of sitar playing. Other than Sahabdad Khan, he was also a disciple of legendary Ustad Bande Ali Khan Binkar (Kirana). He had imbibed his style with precious and rare music style of different gharanas. Khan Sahab adopted toda, tukra, jhala, double jhala, laag-daat, gitkiri, materials of Been, Pakhawaj, Rabab, Sarangi. His style reflects highly perfected right hand playing intricate Bols executed with sparkling and fantastic clarity and with what a speed!!  Alap was based on Dhrupad Ang Meend Sut and charming application of notes was its characteristic. There was emphasis on perfected and polished execution of bol, taan, jhala with phenomenal speed which leaves the listener wonder stuck. He added silsila on Masitkhani Baaj. He was a court musician of Indore Maharaja. He previously used to live at Etawah. So this gharana is named as Etawah Gharana also. Khan Sahab came to Kolkata in interest of Jatindra Mohan Thakur. He was performed at court of Nawab Wajed ALi Shah (Akhtar piya). There was a proverb:'Imdad Khan apne nanhe sitar pe chahe to tufaan khada kar sakte the' (Imdad Khan could create storm in his Sitar). Ustad Imdad Khan's sons Ustad Enayat Khan and Ustad Wahid Khan were also most influential artists of their generation. Khan Sahab was the first sitar player to come out with a recording.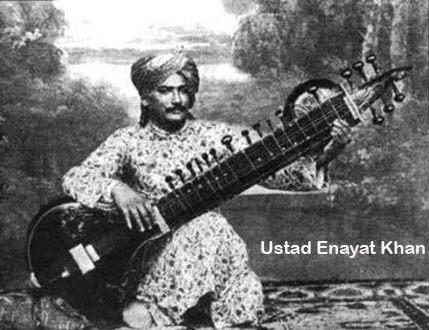 Ustad Enayet Khan(1898-1939):When we attempt to understand Ustad Enayet Khan Style, one is immediately stuck by the introspective and devotional undercurrent. He learned from dhrupadiyas Allabande Khan and Zakiruddin Khan also. He added contemplative quality and his own romantic personality which made his music richer and deeper and sombre. He added significant contribution in 'Tarika' (manner). In alap we discern pleasing and deftly executed khayal type murkis. On surbahar we notice elongated meend covering entire octave. On sitar he introduced 3-4 note meend. In gat he added swiftly executed sapat taans using the principle of 1 note-1 bol and innovative patterns of intricate bol-s. Khan Sahab introduced khandarbani gamaks, peshkara and  tihai-s. on the sitar. He introduced and refined tarabs (sympathetic strings) on Sitar. His jhala portion is sombre, meditative and some great musicians said takes one to the stage of Samadhi. Khan Sahab was the first one to play thumri on Sitar in which he was unparalleled. In his performances there was judicious combination of techniques of polished crystal clear execution along with spiritual and saintly undercurrents. He popularized the sitar and made it accessible to common people. He had a great and unrivaled following throughout the country. No other instrumentalist in his time had such depth, mastery, knowledge and the ability to organize and systematize the instrumental style.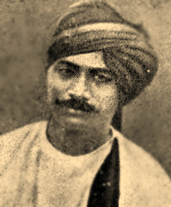 Ustad Wahid Khan: A great Sitar & Surbahar player developed and perfected the  technique of Surbahar playing and inherited a great treasure of Khandani Talim. His technique of Sitar playing was charming and brilliant which clearly reflects rigorous riyaz that must have gone into making him the versatile musician that he was. He was guru of his nephew Vilayat Khan and Imrat Khan and sons Hafiz (Babbu) Khan and Aziz(Gunna) Khan (father of Shahid Parvez). He was the first musician to get Sangeet Natak Academy Award.  Kashinath Mukherjee also received talim from Wahid Khan Sahab.  He is known for his excellence in surbahar and is one of those rare musicians to bring the instrument to the forefront.  His aalap was especially soothing and audiences in his times came from far and near to hear his recitals.  Although not many recordings exist, he can be heard in the legendary Bengali Film director Satyajit Ray's movie Jalsaghar.
Ustad Vilayat Khan: The greatest of Musicians, an epoch maker, a visionary – Ustad Vilayat Khan was all that and much more. The contribution of Ustad Vilayat Khan in field of sitar music has been myth. His sitar style is very well known and is being remembered with great respect.  He has been widely acclaimed as the architect of modern Sitar. Khan Sahab has mesmerized his audience with his magnificent Gayaki Ang Sitar Baaj creating what is universally accepted as Vilayatkhani Baaj. No wonder he is the most influential Instrumentalist of his era. He got music lessons from Ustad Enayet Khan, Ustad Wahid Khan, his maternal grandfather Bande Hussain Khan, maternal uncle Zinda Hussain Khan. Khan Sahab introduced a left hand technique where by continuity of a note for a much longer duration was achieved resulting lyrical and continuous flow in his music. He introduced highly intricate and difficult khayal ang murki-s evolving a fluid music. Many rightly exclaimed that – "His sitar virtually sings". With matchless balance between two hands he added different variety of crystal clear and elegant Taans which is absent in his contemporary Sitarists of other gharanas. Apart from the type of taans, the execution of each variety of taans follows patterns of great vocalists of different gharanas. Ustad Faiyaz Khan and Ustad Abdul Karim Khan, amoung the vocalists have become prime inspiration in Khan Sahab's music. He has tremendous contribution in playing semi-classical, even folk music on Sitar. Khan Sahab is the only Sitarist to have the title 'Aftaab-E-Sitar' (Sun of Sitar) and 'Bharat Sitar Samrat' (Emperor of Sitar).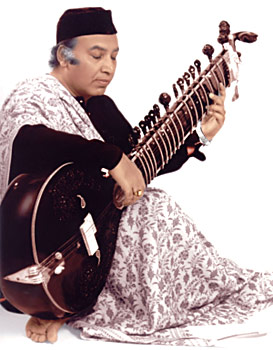 Ustad Imrat Khan: The most important Sitar Player of his generation, Khan Sahab has tremendous contribution in Sitar , specifically in  Surbahar playing. Learning from Vilayat Khan, Bashiran Begum, Wahid Khan, Bande Hasan Khan and several other musicians he groomed as the greatest Surbahar Player in the world. He played with Ustad Vilayat Khan making a first ever Sitar & Surbahar duo. Khan Sahab has taken a very important role in spreading the gharana-music around the globe. Known as a superb Surbahar player of present times.  Imrat Khan is one of the most accomplished masters of his gharana.  Trained by the stalwarts of music from both his father's side and mother's side. Imrat has had training under his legendary brother Ustad Vilayat Khan.  He has a huge number of recordings available in the market amongst them some are with his brother, and are hallmarks of any jugalbandi recordings ever made.  He is still actively playing throughout the world and can be considered the senior most representative of his gharana.
Ustad Vilayat Khan's nephew Ustad Rais Khan is also the top most Sitarist of our time. Ustad Vilayat Khan's sons Ustad Shujaat Khan and Hidayat Khan, nephews Ustad Nishat Khan, Ustad Irshad Khan, Ustad Shahid Parvez Khan, Wajahat Khan, Shafaat Khan, his disciples Pt. Kashinath Mukherjee, Pt. Arvind Parikh, & Kalyani Roy and also Pt. Budhadiya Mukherjee are also worthy members of this gharana. Besides playing sitar, this gharana has tremendous contribution in technical and structural change of Sitar (done by Ustad Vilayat Khan) and Surbahar (done by Ustad Imrat Khan).
Written by Ramprapanna Bhattacharya