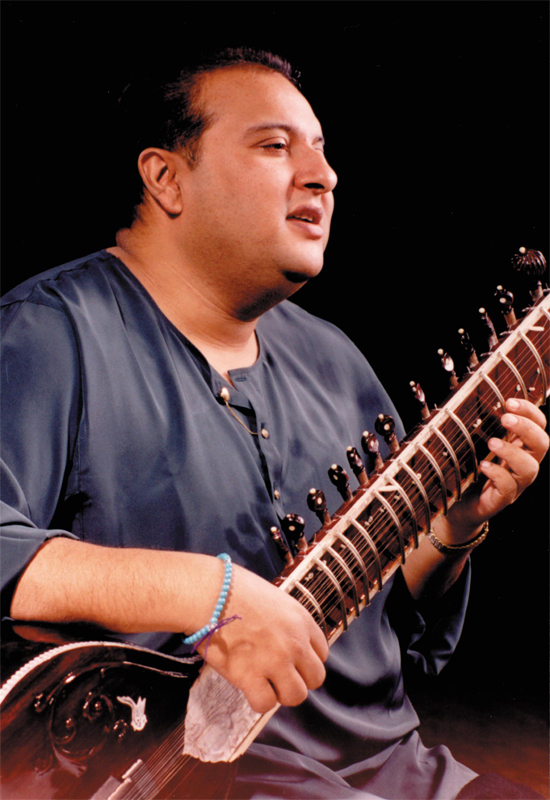 Shujaat Husain Khan is one of the greatest North Indian classical musicians of his generation. He belongs to the Imdad Khan gharana of the sitar and his style of playing sitar, known as the gayaki ang, is imitative of the subtleties of the human voice.
Shujaat Khan's musical pedigree extends seven generations. He is the son and disciple of the great sitarist Ustad Vilayat Khan, and his grandfather, Ustad Inayat Khan, his great-grandfather, Ustad Imdad Khan, and his great-great-grandfather, Ustad Sahebdad Khan, were all leading artists of their respective generations.Khan's musical career began at the age of three when he began practicing on a specially made small sitar. By the age of six, he was recognized as a child prodigy and began giving public performances.  Shujaat Khan has performed at all the prestigious music festivals in India and has performed throughout Asia, Africa, North America, and Europe. Audiences around the world are captivated by his unique style of sitar playing, his exceptional voice, and his intuitive and spontaneous approach to rhythm.
In 1999, Khan performed as a soloist with the Edmonton Symphony Orchestra and in 2007, he was the featured artist at musical concerts celebrating India's 50th anniversary of independence at Carnegie Hall in New York, Paramount Theatre in Seattle, and Meyers Symphony Theater in Dallas. Khan was also the sole artist representing India in a special performance at the United Nations General Assembly Hall in Geneva commemorating India's independence the same year. Alongside his many notable performances, Khan has been a regularly featured artist at prestigious concert halls including Royal Albert Hall in London, Royce Hall in Los Angeles, and Congress Hall in Berlin.
Shujaat Khan has also collaborated with different genres of music. The Rain, an album featuring Shujaat Khan and the Indo-Persian Ghazal ensemble, was nominated for a Grammy Award in 2004 for "Best Traditional World Music Album".  In January 2000, the Boston Herald listed Khan's concert, along with luminaries like Seiji Ozawa and Luciano Pavarotti, as one of the top 25 upcoming cultural events for the year. Additionally, among the numerous awards and international recognition he has received, Khan's Lost Songs of the Silk Road was honored on Amazon.com's "The 100 Greatest World Music Albums of All Time" list in August 2009.
In 2010, Shujaat Khan worked with Asha Bhosle in releasing Naina Lagai Ke. The two performed in sell out concerts at Royal Festival Hall in London, and at concerts in Birmingham and Leicester. Their album was selected as a "Top Ten Best New Album Release" by the editor of Songlines Magazine and was featured in the magazine's exclusive "Top of the World CD" in 2011.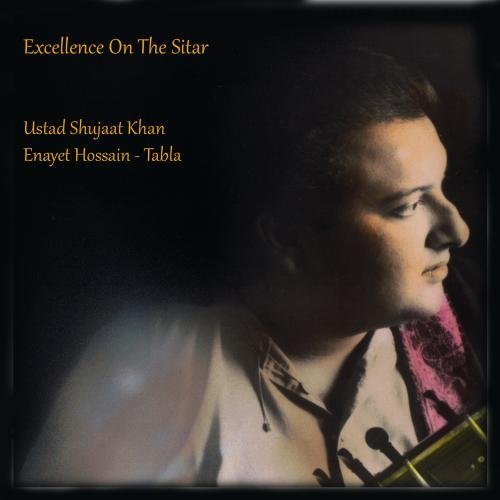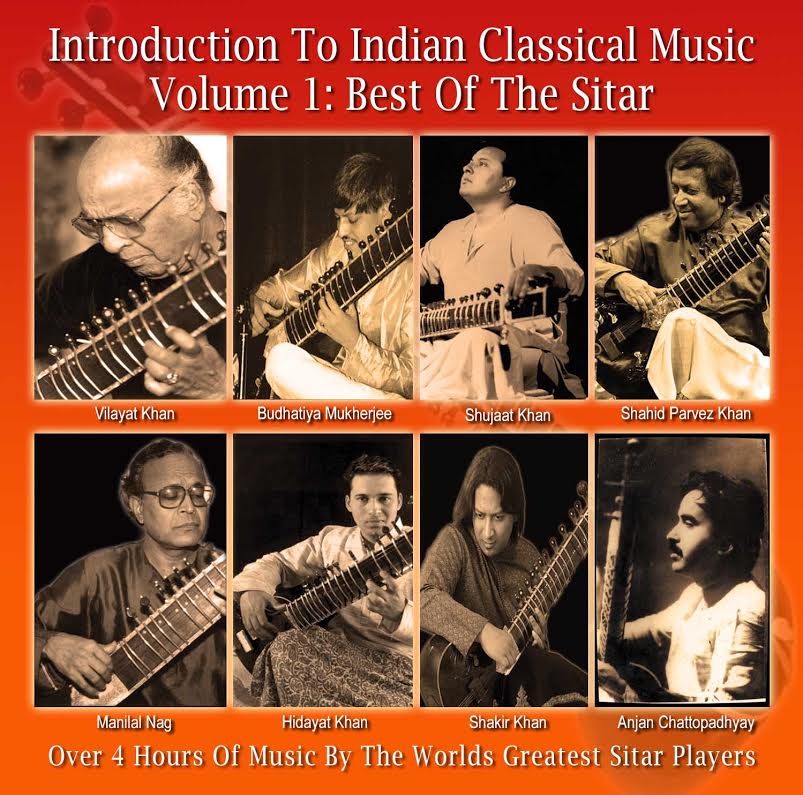 Introduction To Indian Classical Music Vol.1 : Best of Sitar
Over 4 Hours of Music for $7.99
Featuring: Ustad Vilayat Khan, Ustad Zakir Hussain, Budhaditya Mukherjee, Shujaat Khan, Shahid Parvez Khan, Pandit Manilal Nag, Hidayat Khan, Shakir Khan & Anjan Chattopadhyay
CLICK TO BUY FROM ITUNES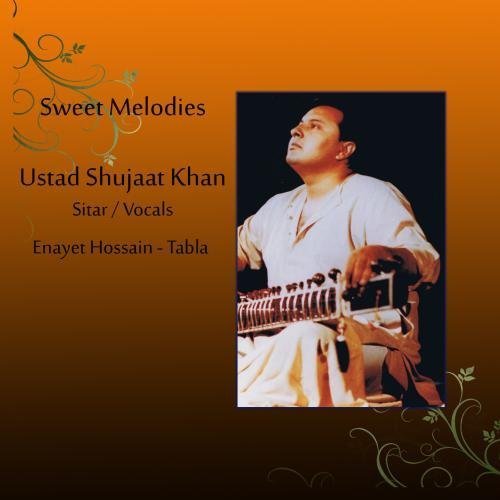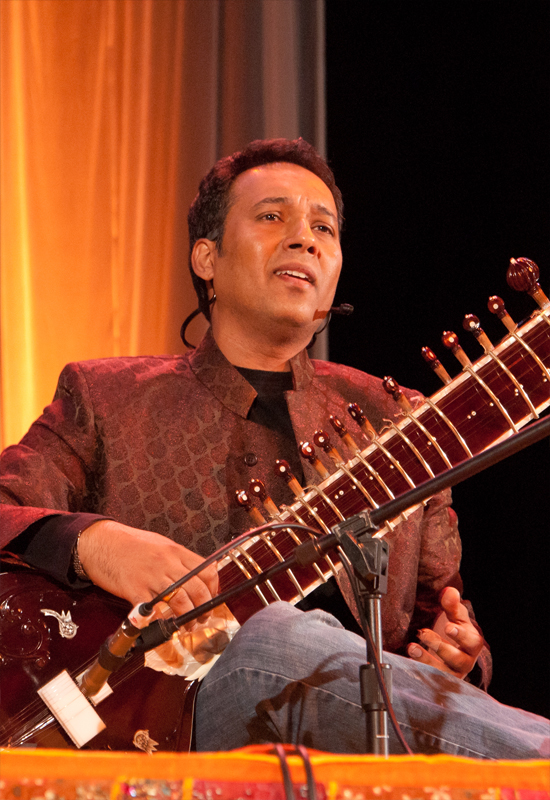 Hidayat Hussain Khan began his formal training of Indian classical vocal music from his legendary father Ustad Vilayat Khan at the age of 4 and continued it until he was 14. From Khan Sahib, He learned to sing "Khayal" and a variety of other forms of Indian classical music. During this time he performed at various concerts including performances at prestigious venues such as the Royal Albert Hall in London, England, Kennedy Center in Washington D.C., Carnegie Hall and Alice Tully Hall at the Lincoln Center in New York.  At the age of 14, Ustad Vilayat Khan Sahib initiated him formaly into sitar. This was followed by intensive sitar training which consisted of hours of riyaaz (practice) and taleem (training) every day. His vocal music training helped him develop as a sitarist and quickly catapulted onto the stage.  Hidayat has performed all over the world. This includes major performances in Europe, Japan, USA, Malaysia, Indonesia, Canada, Singapore and India. Recently he completed a tour in Italy where the press commented on his ability to caress and invoke the primordial sound of creation (nada Brahma). He believes in sincere "riyaz" to take him heights of artistic endeavor.
One of the highlights of Hidayat's performances is the melodic movements that completely replicate the human voice in the true form of "gayaki ang". This style of sitar playing was introduced by his father, Ustad Vilayat Khan. In order to enhance this style more in Hidayat's sitar playing, his father initiated him into vocal music first.  Multidimensional is a word that can be used to describe this performer, as he has taken part in musical compositions for films worldwide, including Mira Nair's Kamasutra. In 1999, he completed a background track for the Discovery Channel program on tigers titled "Tracking a Legend". On my hear vocal presentations which at times accompany his sitar recitals. His style and presence on stage lead the audience to be enraptured with his performance. Hidayat takes keen interest in teaching music to interested students.